Automatic's License+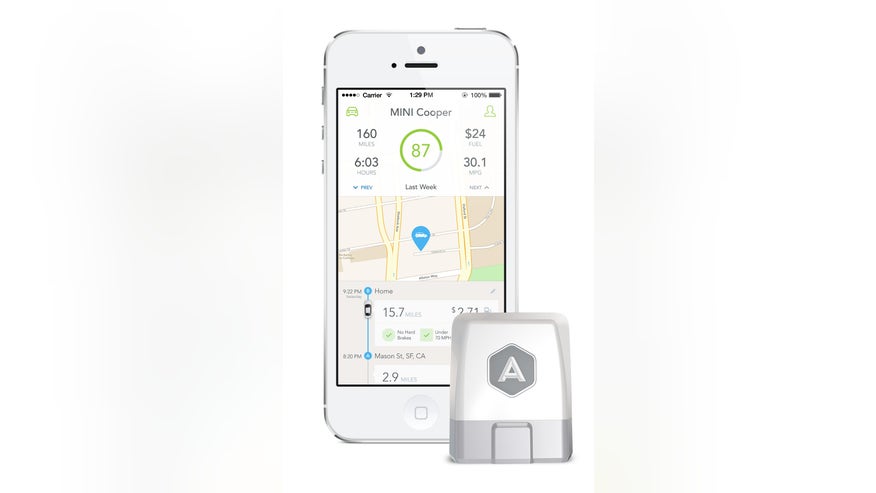 Handing a teen driver the keys to your VW Passat just got a little less stressful. A new device you plug into your car could save lives, and it's actually fun to use.
Studies have shown that newly licensed teen drivers are more likely to get in an accident in their first six months of solo driving. No one is there to monitor the teen for jack-rabbit starts, sudden braking, and speeding. Without supervision, they forget the rules.
Now, the new License+ feature in a tracking device called the Automatic could help teen drivers drive safer and keep parents calm. It's designed to "gamify" the first few months of driving when teens tend to make the most mistakes and act unwisely while driving.
The original Automatic debuted about 18 months ago. It's a small plastic device that plugs into the OBDII (On-Board diagnostics) port of your car, just to the lower left of the steering wheel, and connects by Bluetooth. While mechanics use this port for diagnostics, Automatic uses it for an iPhone and Android app. Until recently, the app only showed data for your MPG, any trouble codes, and your last few trips. It's highly rated and selling like hotcakes. Now, with the License+ feature they've added recently, there's a wealth of new information.
New drivers can get immediate feedback while driving. A chime sounds if you brake too hard (which is a serious problem for the person driving behind you) or speed. The newly licensed teen can add a coach by e-mail who monitors progress. Instead of automatically sharing milestones — like driving 50 miles without hard braking — the teen can choose to share these badges on Facebook at their own discretion.
"Technologies like this can help teen drivers and parents to monitor, record and evaluate their driving," Thilo Koslowski, an automotive analyst with Gartner, FoxNews.com. "It's even more important for parents who want to keep an eye on their kids driving and help them become better drivers by pointing out how to avoid hard braking, going over the speed limit.
Interestingly, the focus on the first few weeks and months of driving is a major benefit here. Koslowski said apps with rewards and incentives tend to get old, but teens might use them more initially when it really matter. He added that it is crucial for parents to use Automatic as a tool to manage poor driving, and also have discussions with their kids about the possible rewards that come from safe driving.
Mark C. Boyadjis, an IHS Automotive analyst, said that several automakers have tried to embed teen monitoring tech into the car for years. One of the most well-known is called Ford MyKey, available on everything from their F-150 pick-ups to the new Mustang. With a MyKey setting, parents can restrict the top speed of the vehicle and disable the radio until the driver buckles up. Boyadjis added that some parents and teens view these as too disciplinary.
"License+ appears to solve both the enforcement needs of the parents, while giving the teen driver an encouraging and fun environment to work within," Boyadjis said.
Steve Bishop, a senior director at Automatic, told FoxNews.com that teens tend to prefer tools that encourage good behavior, rather than a restrictive method.
"Real-time monitoring [for safe driving] is detrimental to the trust and communication between the parents and teens, and makes driving a distracted and miserable experience for the person learning to drive," Bishop said.
Ultimately, teens are encouraged to get "licensed" by completing about 100 hours of driving and gaining a score of 70 out of 100. The device itself costs about $100, while the apps for a computer Web browser, smartphones, and tablets are all free for teens and coaches.